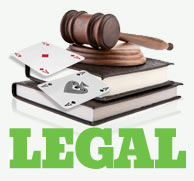 Legal Online Gambling: Getting to Know Online Gambling Law
We bring UK, USA & Australia gambling fans the very latest legal developments & the top legal online gambling sites.
If a gambling site isn't legit, it doesn't make our rankings. We personally test each site on reliability and safety – if it doesn't cut it, we won't list it. If you're worried about playing legally in your country, just follow our links.
Read our list of top recommended sites and find yourself a great legal gambling site today. Sign up and earn a great bonus too.
There is nothing more important to most players than ensuring that they're playing at legal gambling sites. This ensures that players won't get in trouble for playing, but perhaps more importantly, also means that the sites themselves can be trusted to provide fair games and pay out their winnings promptly.
Try any of the sites listed here and you can be sure to find a legitimate provider with an excellent range of lawful gaming options.
Keeping Up With Changing Legal Landscapes
It may be hard to remember this sometimes, but online gambling is still a pretty new industry. And since most online gambling has developed just in the past 15-20 years, governments are still evaluating and changing their stances on legal Internet gambling all the time. What was illegal just last year might now be considered legal gambling today – or vice versa.
At Gambling.net, we are always monitoring the latest developments in online gambling around the world. Online gambling is legal in most parts of the world, but exactly what that means and how it affects players is constantly changing. You need to keep updated on exactly what is allowed in your country, which is why we are continuously monitoring the news to know where online gambling is legal and where legal gambling might be coming soon.
Finding the Best Legal Gambling Sites
When it comes to making sure your online gambling is legal, you can trust Gambling.net to steer you in the right direction. We have extensive lists of trustworthy legal Internet gambling sites that are open to players in the United States, Australia, the UK and many other nations around the world.
Once you look at our lists of the legal gambling sites in your country, you'll be able to find out which sites offer the games and features you want. We've reviewed each site so that you'll be able to understand the bonuses and promotions they offer, the quality of their software, and much more. By sticking to our recommended sites, you'll not only be gambling legally, you'll be getting the best value for your money and having the most fun possible.
Legal Gambling By Country
The following information is a quick guide to legal Internet gambling in several different countries. While this information is current to the best of our knowledge, be sure to check your local laws for clarification or specifics on how these laws might apply in your specific situation.
United States
In the United States, the federal government has taken a rather tough stance against online gambling. While there are no laws that make participating in online gambling illegal for individuals at the federal level, there are laws regarding bank transactions make it illegal for banks to process most online gambling payments, and others that make it illegal for foreign operators to offer real money gambling to Americans.
Given that information – and the heavy-handed approach the US took against some online poker sites in the "Black Friday" incident in 2011 – it's clear why many legal gambling sites have chosen not to offer services to Americans. Some have also chosen to sit out in the hopes of having preferential status when the US government likely regulates online gambling sometime in the future, so that they could be licensed as legal Internet gambling sites.
At the moment, most laws in the United States regarding online gambling are at the state level. These vary tremendously, from states like Washington that criminalize online gambling to states like Nevada and New Jersey that are making licensed online gambling legal. However, for most Americans, the important thing to remember is that there are no laws making it illegal or you to play at online gambling sites – so while many sites may not wish to offer games in Americans, online gambling is legal for players who do join those sites.
United Kingdom
In contrast, the United Kingdom has fully regulated online gambling, making it legal for all adults to take part on any online gambling sites they choose. Not all online gambling sites have equal status, though; while online gambling is legal at any site, not all sites are "white listed" in the UK – meaning that sites in certain jurisdictions can't legally advertise their sites in the UK.
Online gambling in the United Kingdom is regulated by the UK Gambling Commission. However, it is not as tightly regulated through licensing regimes as in countries such as France or Italy; while many sites do hold licenses in the United Kingdom, legal online gambling sites based in other countries are also available to players there, and the government has taken no real steps to block players from participating on foreign sites.
Canada
In Canada, the current online gambling situation is somewhere between that of the United States and the United Kingdom. While there have been no attempts to stop players from participating in online gambling, the federal government hasn't endorsed legal Internet gambling, either. Without the active attempts to battle the industry seen in the USA, most legit online gambling sites have continued to operate in Canada, though there are a handful of sites that stay out of Canada due to the lack of firm regulation.
Similar to their neighbors to the south, Canada leaves much of online gambling law to provincial governments. Many provinces have started to regulate and license online gambling for their residents, including British Columbia, Quebec, Manitoba and Ontario. Other provinces have stated that they have no interest in offering online gambling in their jurisdictions, while still others are currently debating legal Internet gambling.
Australia
Legal gambling – both online and live – has been a major political topic over the last year in Australia. At the moment, what constitutes legal Internet gambling is dictated by the 2001 Interactive Gambling Act. That law made it illegal for most online gambling firms to advertise or offer real money gambling in Australia, without criminalizing online gambling for players themselves.
Most foreign online gambling operators have ignored this, meaning there are a huge number of online gambling sites operating in Australia. And since there are no laws against playing on the sites, online gambling is legal for Australians to participate in – and there have been no serious efforts to stop this current state of affairs.
One exception to the online gambling laws has been sports betting, making this form of online gambling legal to offer in Australia. Several licensed sportsbooks allow Australians to place bets at locally licensed sites. In addition, there has been talk of expanding the licensing program to online poker and other games. While nothing has come of this yet, it's certainly possible that the federal government will make more online gambling legal in the future.