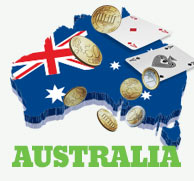 Gambling in Australia: The Best Online Gambling Sites for Australians
Discover how to enjoy the very best online gambling sites available to Australians in Aussie dollars.
At gambling.net we'll make sure you play safe, bank safe, and win safe.
Find the online gambling sites with 24/7 customer support so you can enjoy online games on Aussie time!
Online gambling is big in Australia, and it is growing every day. On Gambling.net, we're on top of the unique online gambling Australia has to offer players. We've tracked down the best betting sites for Australians, and can give you the most up to date information possible about the legal situation when it comes to online gambling in Australia.
Current State of Australian Online Gambling
If you've paid any attention at all to gambling news in Australia over the last year or two, you've heard a lot about gambling reform. Luckily, though, this has centred mostly on the pokies found in clubs and land-based casinos, while online gambling has largely been left alone.
This means that Australian players have access to a wide range of online gambling sites. There's an interesting mix of sites regulated inside the country and those based overseas, a divide that has largely been driven by Australia's aging regulation of online gambling.
Online Gambling in Australia: Legal
At the moment, online gambling sites in Australia are governed by the 2001 Interactive Gambling Act. This law made it illegal for online gambling operators to offer real money games to residents of Australia. However, it left a cut-out for sports betting, which regulated Australian sportsbooks still offer to local punters to this day. In addition, it allowed sites that were already in operation to be grandfathered in, though no Australia-based online casinos or poker rooms still exist today.
At the same time, the IGA did nothing to prevent Australians from playing on foreign-based online gambling sites. This means that online gambling in Australia is legal from the player's perspective, and almost all major online gambling sites around the world actively recruit Australian players for real money play.
Finding the Best Online Gambling Sites for Australia
Since Australians have so many options available to them, picking the best online gambling sites can be difficult. We've done the necessary research to figure out what sites are best for Australians, and which you can safely ignore. Since gambling in Australia is popular in so many forms, that means we've looked at sports betting sites, casinos, online poker rooms and more.
When choosing the best gambling websites for Australia, we took many different factors into account. First, we started by looking at the online gambling sites that we personally knew were among the best in the industry: those sites that are trustworthy and fun to play at, that have great software and awesome bonuses for players. More than that, though, we also picked sites that offered features that were designed specifically for Australian gambling, like the ability to play in Australian dollars or promotions for events taking place in Australia.
Banking at Australian Online Gambling Sites
We also looked for sites that took full advantage of the many different deposit and withdrawal options available to Australians. Since gambling in Australia is freely available, most deposit options are open to players there. For instance, all the major e-wallet sites like Neteller and Skrill accept Australian members, or you can use a credit or debit card - most are usually accepted. Another popular option is POLi, an online banking system that many online gambling sites accept for direct bank deposits.