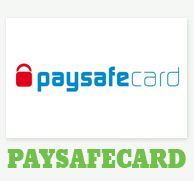 Top Paysafecard Gambling Sites 2023
Nowadays, real money online casino players have loads of ways to fund their accounts, however some simply don't like inputting their personal details into a site. This is where Paysafecard comes in, as Paysafecard allows players to deposit at their favourite online casino using cash, making it the safest online payment method around. What's more, some of the top gambling sites are even starting to allow withdrawals to be made using Paysafecard, which is only increasing its popularity further.
There are loads of casinos that allow Paysafecard gambling and, as you'll see on this page, the depositing process really couldn't be simpler when using this method. If you're looking for the best gambling Paysafecard site though, you've come to the right place, as we've reviewed most of them. At the moment, we think that the best place to gamble with Paysafecard is Gambino Slots.
On this page, you'll find out:
How to deposit and withdraw using Paysafecard
The advantages Paysafecard has over other banking methods
Why Paysafecard is the safest online payment method
The Best Paysafecard Online Casinos
It's now common to see that an online gambling site offers Paysafecard for deposits, so how are you supposed to tell which is the best place for you to play? The answer is a simple one: read through the reviews on this site, all of which are completely honest and totally accurate. In each review, we won't just tell you whether a gambling site accepts Paysafecard, but will also tell you about the games, the security features and much, much more. Once you've finished reading, you'll know exactly which site you want to play at!
The Advantages and Disadvantages of Paysafecard
The big advantage of Paysafecard is clear to see – it is incredibly secure. Because you never have to input any banking details online, there's no chance that they can be stolen during transactions. While this is unlikely to happen at the top gambling sites, some people really like this extra layer of security. Paysafecard is also a really good way to regulate the amount spent at an online casino, which is something that many players really like.
The only real disadvantage to Paysafecard is the fact that it's not quite as convenient as some other payment methods. If you want to make a deposit, you'll have to head out to your closest Paysafecard merchant before you can play, while those using other payment methods will be able to play almost instantly. As mentioned though, this can help to restrict the amount of money a players spends though.
How to Use Paysafecard at Online Casinos
The first thing to do if you want to make real money deposits using Paysafecard is set up a free Paysafecard account, which can be done in a matter of seconds via their website. Once you have done this, you'll then be able to head out and purchase a voucher from one of the many different merchants – you can find your closest one by looking on the Paysafecard site. Your voucher will have a secret code attached to it – scratch the specific area of the card to reveal it. Then you can input the code to the Paysafecard site, which will see the money transferred to you. Then it's simply a case of selecting the Paysafecard option at a Paysafecard gambling site and following the on-screen instructions.
Some top gambling sites also allows withdrawals using Paysafecard. You should check before signing up to ensure this is the case though. If you want to withdraw from a casino online gambling site using Paysafecard, simply follow the instructions on the screen. Most sites will take around 48 hours to process a request.
Paysafecard Gambling Using a Mobile Device
Paysafecard really is the perfect choice for those who enjoy gambling using their mobile. Why? Well, because mobile gamblers can use their vouchers straightaway, without having to wait until they get home to use them! It really doesn't matter what type of device you have, from phones to tablets, or whether you device is an Apple, BlackBerry, Android or Windows Phone one – you'll be able to easily deposit using Paysafecard.
When you deposit using Paysafecard at a mobile casino, you'll still have access to loads of great games, including many slots and a number of table games. Like desktop casinos, some mobile casinos also allow players to withdraw using Paysafecard as well.
"Paysafecard allows players to deposit at their favourite online casino using cash, making it the safest online payment method around."
Play at a Paysafecard Gambling Site Today!
When it comes to online gambling Paysafecard really is an absolutely fantastic choice. Not only is it the most secure way to add and withdraw funds from your account, but it's also incredibly easy to use, and also works really well with mobile devices. Why not read through the reviews on this site today, and find the perfect Paysafecard gambling site for you?
Paysafecard FAQ
Who are Paysafecard?
Paysafecard are one of the biggest payment companies in the world, but they are different to most of the others. This is because they allow people to deposit money at online casinos using cash. They are owned by the same group that also owns Skrill and Neteller, namely the Paysafe Group, and are based in the Isle of Man.
How does it work?
You need to start by signing up for a Paysafecard account, which is completely free. You then head to a retailer near you that sells Paysafecard vouchers, before then inputting the voucher code into your Paysafecard account. You will then be able to spend this money at online casinos, simply by selecting the Paysafecard option.
How do I sign-up?
Signing up is really easy. Head to the Paysafecard website, before then clicking on the "Register Now" button. You'll then need to fill out some details, such as your name, address and date of birth. Once you have confirmed your email address, you will then be able to start using all of the services offered by Paysafecard straightaway.
Do they allow online gambling?
As with many other types of payment methods, Paysafecard allow payments to online gambling sites if online gambling is legal in the country. So, for those living in countries such as the UK and Australia, Paysafecard is offered, however for those in countries such as the USA and Canada, Paysafecard online casino payments are not available.
How fast are deposits and withdrawals?
Once you have selected the Paysafecard depositing action and followed the on-screen instructions, you'll find that the money is in your online casino account straightaway, meaning that you won't have to wait to play. Withdrawals usually take a bit longer though, as most sites take around 48 hours to process withdrawal requests.
How do they compare?
There aren't really any other popular services like Paysafecard around, as they recently bought Ukash, their only real competitor. When compared to other methods, such as Skrill and Neteller, though, it is clear to see that Paysafecard provides a much higher level of security, simply because there's no need to input any personal details at an online casino.
Are fees involved during transactions?
The great thing about Paysafecard is that it is almost free to use, and fees are only charged rarely. It is free to deposit money into a Paysafecard account, and it is also free to spend this money in any way you like. There is a fee for converting money when using Paysafecard though, and inactive accounts will also have a fee charged to them every month.
Is it safe?
There is no payment method out there safer than Paysafecard, which is why so many people choose to use it every day. This is because vouchers can be purchased for case from many merchants, meaning that you never have to input personal details online. This means that there's no chance of these details being stolen during a transaction.