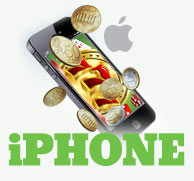 iPhone Online Gambling: How to Gambling Online with an iPhone
Enjoy the best mobile gambling sites and apps at home or on the move using your Apple iPhone.
Get up and running playing poker or roulette online via our trustworthy and secure top reviewed apps.
Join one of the top online casinos, sportsbooks or poker sites on iPhone and get a great welcome bonus .
If you have become interested in mobile online gambling, playing on your iPhone is a great way to get started. Despite the fact that Apple has placed some restrictions on the ways in which gambling companies can interact with their users on their devices, the iPhone remains one of the best ways to get started in online gambling.
Any one of our recommended sites are feature packed iPhone casinos. Gambino Slots, our top site overall, caters for iPhone users with a wide variety of games and excellent player support.
A Great Gambling Device
There's no doubt that the iPhone is one of the best mobile devices for online gambling. First of all, its extreme popularity means that almost every gambling site on the Internet has tailored its mobile section to be accessible through the iPhone. With so many versions of the iPhone having been released, developers can now confidently deliver stable and fully-featured iPhone casinos to players, making iPhone online gambling better than ever.
Of course, the iPhone has other advantages for online gamblers as well. Online gambling with your iPhone allows you the opportunity to play at an online casino, poker room, sports book or other gambling site any time you like. As long as your iPhone has a connection, iPhone Internet gambling will never be more than a few seconds away. The iPhone's graphical abilities also guarantee a sharp, crisp image that makes your games easy to play – and easy on the eyes, too.
Apple's Gambling Restrictions and You
Some of our readers might be surprised to see an iPhone online gambling page on our site. After all, you may have heard that Apple holds iPhone gambling in low regard, and has even placed many restrictions on what can be done in regards to gambling on their devices. If this is true, then why are we talking about iPhone online gambling at all?
The truth is that Apple's gambling restrictions have been somewhat overstated. Apple's stance towards iPhone online gambling is more about keeping their distance and being cautious rather than actively restricting it. As such, Apple won't partner with gambling apps to take part of their revenues, nor will they allow real money gambling apps to be sold or purchased outside of jurisdictions where they are expressly regulated.
This means that in many countries, some or all of the real money gambling apps created by online gambling sites for the iPhone won't be available to players. Still, players have the ability to visit gambling websites in their web browser, and the number of approved iPhone online gambling apps is increasing every day. No matter what you've heard, there are plenty of opportunities to enjoy online gambling with an iPhone!
iPhone Online Gambling Games
When you play iPhone Internet gambling, you'll quickly realize that your options for mobile gambling are almost limitless. Not only does almost every online casino we recommend offer an iPhone casino, but there are also an increasing number of iPhone poker rooms, bingo sites, and iPhone sportsbooks catering to Apple users.
While iPhone online gambling sites don't typically have the same game selection that you'd find at a traditional downloadable casino or a Flash-based site, there's still a wide selection of games available to choose from. A typical iPhone casino will have several slot machines along with a few table games options, including classic favorites like blackjack and roulette . Online gambling with an iPhone will usually also allow you to play Texas Hold'em and other games at online poker rooms, and make any bets you'd like at a sportsbook .
The Best iPhone Online Gambling Sites
At Gambling.net, we take pride in offering our readers the best selection of iPhone online gambling sites to choose from. We've taken the time and attention to rate all of the top iPhone Internet gambling sites, paying attention not just to the overall package – including the bonuses offered and the game selection available – but also to the specific iPhone features that are present at each site and any iPhone apps that are available for that site.
By searching through our reviews, you should be able to find the best iPhone online gambling sites for you without having to spend your time or money trying each and every one. Once you've found the site that's right for you, you can start your Apple iPhone gambling today!
iPhone Gambling FAQ
Can I play at my favorite casino on iPhone?
This depends on the casino you have chosen. All large successful gaming sites offer apps for iPhones or ensure that their websites are optimized for an iPhone screen and iOS system. If you have created an account with such a casino, you will have no trouble playing directly from your iPhone no matter where you are.
Is it safe to play at online casinos on iPhone?
That depends on the casino you choose to play at. As long as you always play at recommended and carefully tested online gaming sites, it would be safe to keep playing. It is best not to sign up at casinos which you are not familiar with or which have not been recommended to you by trusted reviewers.
Where are the best iPhone casino experiences?
For the best online gaming experience when using your iPhone, head to our page of iPhone casino recommendations where our team of experienced players have reviewed all the different aspects of each online casino. There you can just follow in our footsteps and play securely to your heart's content.
What makes a good iPhone site?
The most important characteristic of a good iPhone site is its optimization for iOS devices. Top casinos modify their sites, so their software will run as smoothly on your iPhone as on an Android smartphone or a computer. It will also look just as good on the small screen as it does on a monitor!
Can I play casino games for free on an iPhone?
Of course! All the best online casinos offer at least some of their games for free play. Think of it as a test run before you commit to signing up. Free play allows you to evaluate the games' features, as well as get used to the gameplay through your iPhone. So, once you sign up you'll be ready to win!