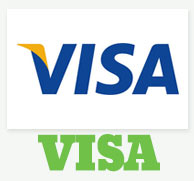 Online Gambling with Visa: How to Use Visa Cards at Online Gambling Sites
Online gambling with Visa cards is simple, as almost any online gambling site worth your time will accept a Visa if you try to use it. And since making Visa payments is fast and secure, using your Visa is a great way to get started with online gambling.
Our reviews team has shortlisted the very best online gambling venues that accept Visa payments, so you can be sure to get a good real money gaming experience.
See what the benefits of making Visa deposits are
Follow our step by step guide to using Visa for online gambling
Take our advice about the best gambling sites for Visa users
Benefits of Using a Visa Card
There are several benefits to using a Visa to make an online gambling deposit. First, Visa cards are processed instantaneously, meaning that every time you make a deposit, you'll see the money in your account within seconds. Compared to older techniques like sending a check or even processing a bank wire, Visa online gambling is incredibly fast and efficient – and comes without any special fees.
Another reason to try online gambling with Visa cards is the very high rate of acceptance they have. We mean this in two ways. First, as you'd expect, most sites are happy to accept Visa deposits, just as you'll almost always see Visa as an option when shopping in stores. But we also mean that Visa online gambling deposits are likely to be processed rather than declined. While we can't guarantee this for every card – each issuing bank sets its own policies regarding gambling deposits – your chances are always good when using a Visa.
How to Make Visa Gambling Deposits
Another great thing about Visa gambling online is how easy it is to make deposits. When you sign up for a new online gambling site, you'll be able to choose from a number of different deposit options in the cashier. But while many of these methods require you to sign up for accounts at payment processing sites or use your online banking information, all you'll need for Visa online gambling is your card in front of you.
By choosing Visa as your payment method, you'll be prompted to give your card number, name and expiration date. Just put in the correct information, and let the site know how much money you would like to deposit. Once you've done this and submitted your request, your payment will immediately be processed! Once you see the money show up in your account (which should take no more than a minute or two at most), you'll be ready to begin playing online gambling with Visa.
Finding the Best Gambling Sites
While you can start online gambling with Visa cards at almost any internet gambling site, not all sites are equal. If you aren't careful, you can play at a site that doesn't offer the games you like, doesn't give you the best bonuses possible, or isn't as trustworthy as major sites that have built up strong reputations over the years. It's important to find a good online gambling site, as the site you choose can easily make the difference between having a great time or simply getting a major headache.
That's where we come into play. At Gambling.net, we've used our decades of experience in the online gambling industry to rate and review the best gambling sites. By looking at our site reviews, you can find the sites that are best for you, ensuring that your Visa online gambling experience will be a positive and fun one.
With dozens of reviews and a variety of sites that are right for every kind of player, we can ensure that you'll find an internet gambling site you like. Once you've found the site that's perfect for you, you can start your online gambling with Visa cards today!