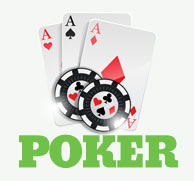 Top Online Poker Sites: The Best Sites for Online Poker
Our guide contains top sites which have great software, games and superb 24/7 customer service.
Find the best poker variations around, from Texas Hold'em tournaments to Omaha and Razz.
Sign up with a recommended online poker site to earn a fantastic 100% welcome deposit bonus.
If you've been looking for a great way to get into online gambling, there are few better choices than joining a great online poker site. Online poker is the perfect game for many different types of gamblers. The interaction between you and the other players at the table make poker both fun and social, which is perfect for casual players.
Whether you've played poker before or you've never made a bet in your life, you might find it hard to choose between the dozens of great online poker sites out there. Luckily the reviews team's shortlist should help you out:
Picking the Best Poker Sites
Here at Gambling.net, we've used our extensive experience in online gambling to narrow down the field and choose the best online poker sites for our readers. While we know that no one site is right for every single poker player, we feel that we've come up with a list of sites that should make any online poker player happy.
We took the time to rate and review many of the best sites in the business in order to come up with our select list of the best online poker sites for you to choose from. Our reviews are unbiased and thorough, ensuring that you can trust our information and find the site that has the features and games you want.
How Poker Sites Differ
While we'll stand behind all of the online poker sites on our list, it's true that each of these sites has something different to offer to you. There are many areas in which online gambling sites differ, and this is as true of online poker rooms as any other gambling site.
For instance, every online poker site offers a different selection of games. Some have great tournament action, while others have a wide variety of cash games. While most sites have Texas Hold'em and Omaha, some offer additional games like Seven Card Stud, Razz, and mixed games, among others. Each of the best poker sites also has a different bonuses and rewards program, and the amount you choose to play might make one of these programs better for you than others.
Additionally, their software may have different limitations or features. Such as whether or not they can be played on Mac or mobile devices .
What Makes a Good Poker Site
When it comes to reviewing online poker sites, we took several factors into consideration. First of all, we ensured that each site had a strong reputation for fair play and security, as nothing else matters if you can't trust that your money is safe. Next, we looked for sites that had a solid player base. This is very important for an online poker room, as it ensures that there will always be action in the games and stakes you're most interested in.
We also favored sites that had a good variety of poker games, as we know many online poker players like to try a number of different styles of play. We also looked at the software used by each of the best poker sites. We rated the software not only on how easy it was to use and navigate, but also on what kinds of features were built into the software to make playing easier and more enjoyable.
Your Trusted Source for Poker Site Reviews
Here at Gambling.net, we don't have a hidden agenda, and we don't want to steer you only to certain online poker sites. We simply want to give you the information you need to find the best gambling sites for you! With lots of options and thorough, honest reviews of all of the sites we recommend, you'll have everything you need to find the online poker rooms that are right for you.
Poker FAQ
Can I play poker online for free?
Yes, online poker can be played for free at most large online casinos. All you need to do is open up the poker room of your choice and see which poker varieties are available for free play. Not all varieties will be available for free play – once you sign up for a poker room, a lot more varieties become accessible.
Can I play competitively & enter tournaments online?
Yes, all large, reliable poker rooms offer competitions and poker tournaments to their players. Some tournaments are online, while others are land-based and are organized a couple of times a year, allowing players to travel around the world and meet other players.
Can I play poker on mobile devices?
Yes, all top poker rooms on the internet have optimized their websites in 2017, so that you can access them from any mobile device comfortably. Depending on your device, you may have to download an app or be able to play in browser, but as long as your device is updated and using the latest operating system, you will be able to play from anywhere you are.
Are online poker games rigged?
Generally no. There are specialized monitoring organizations that qualify poker rooms for fairness and security. One such organization is eCOGRA. Look for the eCOGRA certification at the bottom of the home page of your chosen poker room to ensure that the games are fair, and the random number generator of the website is working as it should.
Where are the best online poker sites?
There are many online poker sites available on the internet. For some of the best poker rooms that take good care of their players, check out our recommendations page where our team of reviewers will provide you with detailed breakdowns of all features of the top 5 poker rooms.