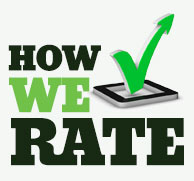 Online Gambling Ratings: How We Rate the Top Gambling Sites
Our reviewers are all experienced gamblers who know what to look for in a good online gambling site. Our team scours the net for the best sportsbook odds, top casino games, and biggest online poker player pools.
We deposit our own money on all the online gambling sites listed on gambling.net and test them under strict criteria, including: 24/7 customer support, quality of software, range of games, safety & security, and speed of cash payouts.
Find the best real money bonuses online – we rate each gambling site so you can get your hands on a top welcome promo right now.
When you first start looking for online casinos or other gambling sites to visit, everything can seem to merge into one big blur. Since most sites offer games that look similar, it's easy to get into the mindset that every site is exactly the same. This leads many players to just pick the first site they hear about or whichever one has the most appealing ads.
However, this approach can be a big mistake. Every online gambling site offers a unique experience for its players, and no one site is right for everyone. That's where our ratings coming into play. By looking at our reviews, you can figure out exactly what to expect at a given site before spending your money or time testing it out. By knowing exactly what each site has to offer, you can find the site that's certain to meet your needs, and be confident that you're picking the gambling website that's right for you.
Rating Online Casinos
Our team of casino experts has taken the time to rate casino sites in the areas that are most important to players. For instance, online casinos often vary somewhat in the games that they offer. Depending on the software package that a casino site uses, they may have a bigger focus on slot machines or table games; while every site has some of the most popular casino favorites, if you have a less common game that you enjoy to play, you'll want to be sure you choose a site that offers it.
Another important aspect in our online casino ratings is a look at the bonuses you can get at each site. This is a major area of difference between different online casinos even when their games and other features are similar. Bonuses aren't a one-size-fits-all category, either: while some players will want the largest bonus possible, others may want a bonus that is easier to clear or one that is catered to a particular game, such as blackjack.
Rating Poker Rooms
Online poker sites all have one thing in common: they allow you to play poker against competitors and win real money. But beyond that, each poker site will offer a unique variety of games, features, and bonus offers that will appeal to different kinds of players. If you just want to play in small-stakes hold'em games, you can find those anywhere. But if you like playing a variety of different poker variants, want to play for very high stakes, or are interested in special features like anonymous tables, you'll need to look closer to find a site that meets your needs.
Other factors that you we consider in our ratings may not seem important at first glance, but can be very important to your poker experience. For instance, we'll let you know what the traffic is like at each site; unlike at a casino or sportsbook, the number of other players matters in a poker room, as you can't play unless there are others who want to sit with you at the table.
Rating Sportsbooks
Our sportsbook ratings may be the most important of all. While a casino or poker player will likely have at least a little enjoyment if they pick a large and popular site, sports bettors need to be very careful about picking the right bookmakers. Our ratings will let you know which sites offer the best odds, and which ones aren't worth your time.
Of course, the best odds aren't always the same for each player. One sportsbook might have great dime lines for baseball, while another could offer the best odds on soccer and football. And even if a particular site has great odds all around, it's usually best to have accounts at multiple sites so you can take the best lines available, so we'll let you know which sites tend to set their lines independently of each other, giving you the most variety possible on each bet.
Keeping Our Ratings Updated
While we pride ourselves on our extensively researched ratings and reviews, it's also true that sites change over time. That's why we make sure to revisit sites periodically to ensure that the ratings we awarded are still deserved. Occasionally, you'll find that we have to make minor - or even major - changes to the ratings because we've seen a site improve in certain areas or slip up a little in others. This ensures that our readers are getting up to date information, rather than relying on a "great" review that was written years ago and no longer applies.
How to Use Our Ratings
Our ratings should be used as a guide to which sites are the best choices for your internet gambling. While we stand behind our ratings, there's always a measure of subjectivity to any ratings system - after all, there's no accounting for taste. We stand behind all of the sites that we keep ratings for, so if you find a site that seems perfect for you but doesn't have quite the ratings of one of its competitors, you can be sure that it is a very good choice, too. And since we know no two players have exactly the same needs, we're happy to list several sites in every category so that you can choose the ones that are right for you - not just the casinos and sportsbooks we've given the highest marks.