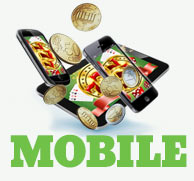 Mobile Gambling: Online Gambling with Smartphones
Enjoy the best online gambling apps mobile on your smartphone or tablet device.
We review the top online casinos, slots sites and poker rooms for your Android or iPhone.
Play top games on your mobile phone, and sign up now for a great welcome bonus.
Of all the changes and enhancements that have come to online gambling over the last decade, none have been more revolutionary than mobile gambling. Your favorite online casino games are never more than a few taps away, allowing you to take part in online gambling whenever you want to enjoy a hand of blackjack or a slot machine, or make a sports bet.
Below you can find a list of our recommended sites for mobile gaming including our top site Gambino Slots which offers a welcome bonus of up to $1000!
A New Revolution in Gambling Technology
While smartphone online gambling has been around for a while, it is only in recent years that the technology has advanced to the level where players can do just about anything on their phone or tablet device that they could accomplish on their computers. Almost from the beginnings of online gambling, bettors could access versions of sportsbooks to place a bet on their phone, for instance. But today, mobile online gambling encompasses poker, casino games, and much more.
Today, there are a number of different ways for individuals to access mobile gambling on their phones. Some online casinos and poker rooms offer specialized apps, while others have easy-to-access mobile sites. Most companies ensure that their online gambling services can be accessed from iPhones, iPads, Android devices and more. And while game selection is often limited when compared to the options at a traditional online gambling site, this aspect of mobile online gambling is improving every day.
The Most Convenient Way to Play
Online gambling with mobile devices is popular in large part because it is the fastest, simplest, and most convenient way to access your favorite gambling games. You won't have to be near a computer to play; all you'll need is an internet connection through your phone, and you'll be set to play any time you feel the need for some action. With a few taps on your phone, you can start your mobile Internet gambling.
This opens up a whole new world of ways to play. If you feel like getting some mobile online gambling in while you're on the train or carpooling to work, you can. If you're waiting for the ballgame to start and want to place a bet, just pull out your phone and see the latest odds. And if you're on your lunch break and want to play a few hands of poker, smartphone online gambling is the best way to get a quick fix.
Finding the Best Mobile Online Gambling Sites
With so many different websites now offering online mobile gambling options, it can be difficult to figure out which sites are right for you. We've taken the time to independently rate and review every mobile Internet gambling site we could find so that you can get the best information possible and make the choices that make sense based on your own personal preferences and needs.
All of the mobile gambling sites we've reviewed use state of the art encryption technology to ensure they are just as safe to play on your phone as any traditional online casino or poker room. We've also taken a look at the game selection of each mobile online gambling site in order to recommend those sites that offer bigger selections – as well as those that are constantly expanding the games they offer.
Finally, we took a careful look at the graphics and presentation of each online mobile gambling site we reviewed. While most games are simplified in their mobile versions, smartphone online gambling is getting better every year. At this point, the games you play on your phone should be crisp, clear, and easy on the eyes, and we made sure to note which sites offer the best user experience for our readers.
Mobile Gambling FAQ
Can I play at a casino on mobile for free & with no deposit?
Yes, all top online mobile casinos offer free play, so that players can get acquainted with their games and features and be able to test out the merchandise before committing. You can play without creating a casino account but you will not have access to the full range of the casino's games and features.
How can I make payments at mobile casinos?
Mobile casinos nowadays accept a wide range of payment methods, just as their desktop counterparts. You can deposit real cash and withdraw your winnings by credit and debit cards like Visa and Maestro, eWallets such as PayPal, and various other online payment methods like Skrill, Paysafecard or bitcoin. And you can do all this directly through your mobile device.
Can I get bonuses playing at a casino on mobile?
Yes, the top online casinos offer bonuses to their players for many reasons. One of those reasons can be to encourage you to access their website through your mobile device or mobile app. Plus, all the usual reasons they give bonuses still apply!
What devices can I use?
The devices you can use will depend on the online gaming website you sign up to. The top online casinos offer mobile versions of their sites and specialized mobile gaming apps that can be accessed from any later model iOS or Android device, BlackBerry smartphone, Fire tablet or Windows phone.
Which mobile casinos are best?
There are many mobile casinos on the internet, so for the best performing and safest mobile gaming sites out there, head to our recommendations page, where our experienced reviewers have shortlisted the top online casinos for mobile in detail. We take into consideration all the factors that matter!