Slots Glossary
If there's one game that attracts more attention in a modern casino than any other, it's the slot machine. These games are not only simple for gamblers to understand, but they also offer some of the biggest prizes in the casino – especially when dealing with progressive jackpots! The temptation of big prizes and the ability to customize the amount you spend on each spin has made slots an incredible popular option in both live casinos and at internet gaming websites. If you want to better understand just how these slot machines work and the kinds of features and terms you can expect to run into while playing, here are some of the most common phrases you'll run into in the slots world!
All Ways: A style of slot machine in which players pay only a single price in order to cover all possible winning combinations. These games are also often known as "243 Ways" machines, due to the fact that a five-reel slot machine with three rows of symbols displayed on the screen will offer 243 different possible winning configurations. Machines of this style have recently become popular at online gambling sites.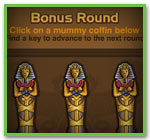 Bonus Round: An additional free round of play that can be triggered on the reels. Typically, a player will have to match several of a particular symbol to activate a bonus round, though other bonus games are triggered randomly.
Coin Size: The value of the coins players are wagering on a spin. On many online slot machines, there are several coin size options to choose from. This is one of the main ways in which players can control how much they bet on each spin, along with changing the number of coins bet and the number of paylines played.
Free Spins: Additional spins that can be earned by players during play. Often, players must match several of the scatter symbols in order to earn free spins, though they can also be earned through bonus rounds or in other ways, depending on the machine.
Gamble: A feature offered after a winning spin on some machines, in which players are offered a fair chance to either double their winnings or lose them. When these games are offered, they are always optional.
Jackpot: The maximum amount of money that can be awarded to a player on a spin. Often, symbol that awards the biggest prizes on a machine is known as the "jackpot symbol."
Maximum Bet: The highest bet a player can make on a single spin, given the current coin size. This bet is made by playing all available paylines for the maximum number of coins possible.
Paylines: The lines on which symbols can be lined up in order to win prizes. The number of paylines available to players can vary by machine, and players are not required to play all paylines on most slots.
Progressive Jackpot: A jackpot in which the amount to be awarded to the eventual winner increases as the machine is played by players. A portion of each coin bet will go into the jackpot, increasing until someone manages to win it. Often, these jackpots can be networked over several machines or casino sites, allowing jackpots to grow quickly – sometimes into the millions of dollars.
Reels: Traditionally, the wheels on which the symbols are printed. In modern video and online slots, each column of symbols is considered a reel. Most slot machines are either three-reel or five-reel machines, though other layouts are also possible.
Scatter: A symbol that can trigger wins if a match is made anywhere on the machine, even if the symbols aren't on the same paylines. Typically, scatter symbols offer rewards such as free spins, multipliers, or other bonus features.
Second Screen: A bonus round that takes place on a different screen from the standard "reels" interface. These bonus rounds often have interactive features, and players are returned to the reels for normal play after the end of the bonus.
Symbols: The pictures or images on the reels that players must match in order to win prizes.
Wild: A symbol that can substitute for any other symbol needed to win. In some cases, wild symbols can also win prizes on their own if a player can match them on the same payline.